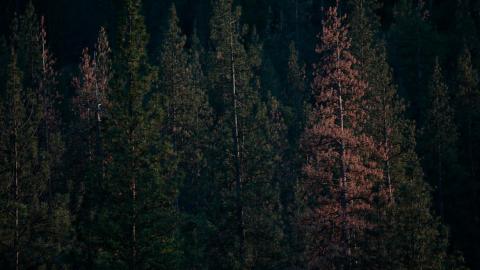 By Matt Stevens and Corina Knoll
A million trees in the Sierra Nevada over the last eight months -- an alarming finding for a state already raging with wildfires fueled by denuded landscapes and desiccated tinder.
The dire estimate offered Wednesday by federal officials brings the loss of trees since 2010 to at least 66 million, a number that is expected to increase considerably throughout the year, despite an average winter of rain and snow that brought some relief to urban Californians.
"Tree dies-offs of this magnitude are unprecedented and increase the risk of catastrophic wildfires that puts property and lives at risk," Agriculture Secretary Tom Vilsack said in a statement.
In October, after U.S. Forest Service officials announced that the last five years had seen the death of 40 million trees, Gov. Jerry Brown declared a state of emergency and formed a tree mortality task force to help mobilize additional resources for the safe removal of fallen and dying trees.
The latest number was reached after a May survey of six southern Sierra counties: Fresno, Kern, Madera, Mariposa, Tuolumne and Tulare.