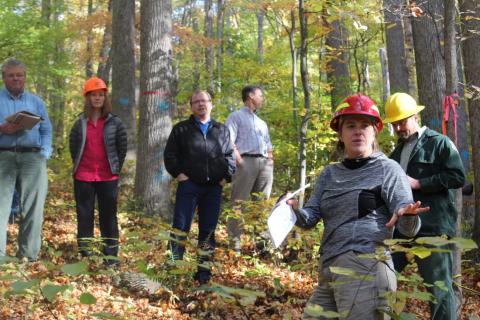 By Virginia Daffron
Mighty oaks from tiny acorns grow, though perhaps not as quickly or vigorously as foresters and landowners would like.
Although mature stands of oak and hickory dominate the forested slopes of our Blue Ridge Mountains, foresters have been sounding an alarm about the future of these species, particularly the economically and ecologically valuable oak, since the 1950s. That's because when those forests are harvested, other types of trees — notably yellow poplar — start crowding them out.
Poplar also has various industrial uses, including plywood, mulch, paper pulp and fuel pellets. Unlike oak, though, yellow poplar isn't threatened, and the ramifications of the loss of today's hardwood forests extend well beyond the purely economic.
At the U.S. Forest Service's Southern Research Station in Asheville, Tara Keyser has spent years working on the vexing problem of oak regeneration. And since 2009, she's pushed for a long-term study to determine whether an innovative forest management approach can help this species regenerate.
Keyser recently led a group representing the Appalachian Woodlands Alliance to the 150-acre tract in Bent Creek where foresters will test her approach over the next several decades. The alliance, a loose coalition of public and private entities, seeks to foster sustainable forest practices across the Blue Ridge region.
Date:
Tuesday, December 13, 2016