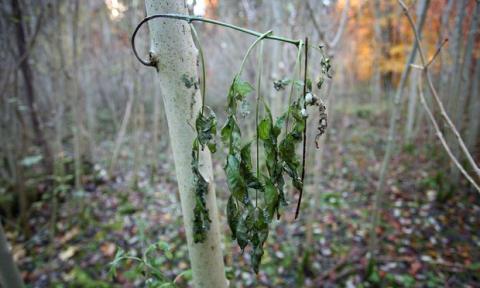 By Patrick Barkham
Scientists .identify first tree to show strong tolerance to the disease raising hopes of developing a resistant strain.
She has a silver-grey trunk, is 200-years-old and unusually resilient. Betty, a mature ash tree in Norfolk, is offering hope that ash dieback disease will not be as destructive as first feared after scientists identified her "strong tolerance" to the disease.
Researchers from a government-backed consortium of universities and research centres have developed three genetic markers to enable them to predict whether a tree is likely to be tolerant to the disease, raising the possibility of using selective breeding to develop strains of disease-resistant trees.
They identified Betty, a slender, 18-metre tall tree, as unusually tolerant. The female ash, which was coppiced fifty years ago, is untouched by the fungal disease which has killed half the ash trees in Ashwellthorpe, Norfolk, the first ancient woodland in Britain to succumb to the disease in 2012.
Scientists for the Nornex consortium, a group of researchers led by the John Innes Centre, produced genome sequences for two tolerant Danish trees and established three markers which they believe are predictive of a tree's ability to shrug off the fungal disease.
One researcher's computer "collapsed" under the weight of the data processed as 248 trees were tested from the Norfolk woodland, which experienced "a massive fungal infection" of ash dieback, according to the researchers.
The scientists predict that 3% of British ash trees will show a fairly high level of tolerance to the fungal disease – a degree of resistance believed to be significantly higher than on the continent. The disease has killed 90% of the ash trees in Denmark but scientists at the John Innes Centre predicted that could now be reduced to 50% in Britain.
"She's named Betty for her tolerance and resilience," said Lord Gardiner, spokesperson for the Department for Environment, Food and Rural Affairs in the Lords. "We want to guarantee the graceful ash tree continues to have a place in our environment for centuries to come and this vital work is a major step towards ensuring just that."
Date:
Tuesday, November 29, 2016