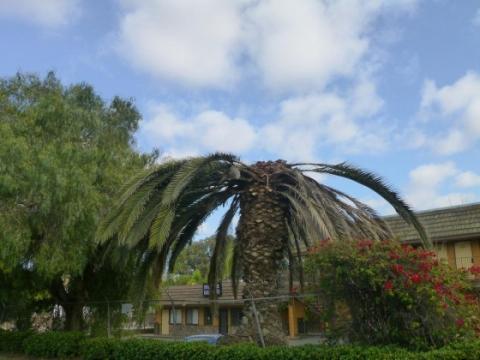 By Mark Muckenfuss
It's a bit of a whack-a-mole kind of thing.
One invasive pest gets knocked down, such as the European grapevine moth or the red palm weevil, and another pops up.
This time it's the South American palm weevil, an inch-and-a-half-long black beetle that loves Canary Island palms – like those lining Riverside's Victoria Avenue – and kills the trees within months. The top fronds of the tree die and fall off, leaving the tree looking as though it has lost its crown.
UC Riverside entomologist Mark Hoddle recently found the pest in palm trees in Chula Vista near San Diego. Researchers, date growers and agricultural officials will meet in Chula Vista on Wednesday to assess this latest threat and try to determine the best way to fight it.
Albert Keck is chairman of the California Date Commission and president of Hadley Date Gardens, which has groves near Indio, the largest date growing area in the state.
"It's a big concern," Keck said of Hoddle's find. "We want to contain it. We don't want it getting over the mountains" and into the Coachella Valley. "We're hoping we can mobilize a campaign to nip it in the bud."
Keck said palm trees faced a similar threat from the red palm weevil, which was found in Laguna Beach six years ago.
Date:
Thursday, October 27, 2016