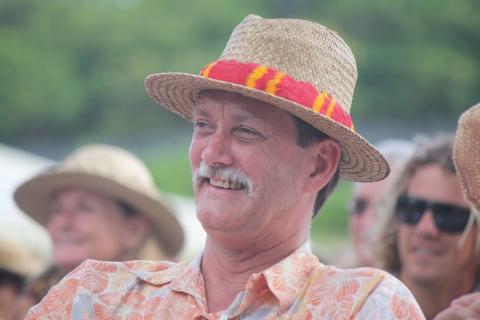 Kalāheo, Kaua'i, Hawai'i USA (April 25, 2018) — The National Tropical Botanical Garden (NTBG) is pleased to announce that The Garden Club of America (GCA) has named Charles R. "Chipper" Wichman, President, Director, and Chief Executive Officer of the institution, as the recipient of its 2018 Medal of Honor. The medal, which is awarded for outstanding service to horticulture, will be presented following a black tie reception at the GCA's Annual Meeting in San Francisco on April 29, 2018.
Wichman was selected as the GCA's 2018 Medal of Honor recipient after being nominated for the award by the Garden Club of Honolulu whose president Jann Boxold described Wichman as a "global leader in conservation and horticulture who has dedicated his life to the discovery and conservation of tropical plants and the protection of their habitats."
With Wichman's selection as the recipient of the 2018 GCA Medal of Honor, NTBG becomes the only botanical garden in which two of its staff have received the prestigious award. In 2016, Dr. Diane Ragone, Director of NTBG's Breadfruit Institute received the GCA Medal of Honor for her work with breadfruit to address global hunger.
The special nature of this dual recognition was not lost on Wichman. "It is really quite extraordinary to have two leaders from the same organization receive this prestigious award just two years apart. That really says something about the impact the NTBG is having on the world," said Wichman. "Several of my heroes and mentors in horticulture and botany have received this award — women and men who made significant contributions to advancing our understanding and appreciation of the natural world through horticulture," he added.