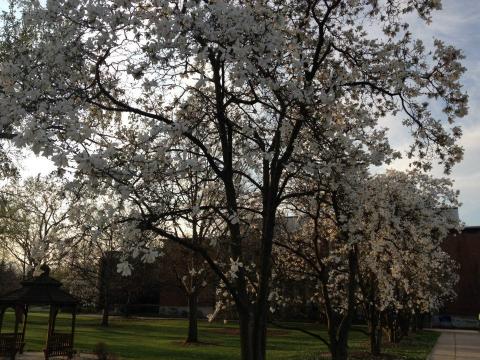 By Graydon Megan
Nearly 900 trees spread over 48 acres might sound like an urban, or at least suburban, forest, but it is actually the Elmhurst College Arboretum.
The collection includes many unusual, even one-of-a-kind trees, a few of which formed the core of short tour of the campus on the evening Thursday.
The tour, led by Elmhurst College grounds supervisor and certified arborist Paul Hack, took more than 30 visitors on a short walk beginning at the school's Frick Center, looping north and finishing up on the roof of the Schaible Science Center, where Hack concluded the visit with a special non-tree display.
Hack first led the way to a small conifer just off a sidewalk leading north from the Frick Center. The tree is a yew tree, but unlike other American yews, Hack said. So unusual in fact, that it has been named the Elmhurst yew. Hack said work is continuing to analyze the tree's DNA to learn more about its heritage.
Along the way, Hack talked about the history of the school's tree collection, which is accredited as a Level II Arboretum by the Morton Register of Arboreta. The campus has also been designated a Tree Campus USA by the Arbor Day Foundation.
The collection was started in 1966, when Dutch elm disease began to kill Elmhurst's emblematic elm trees, according to Hack and the school's website.