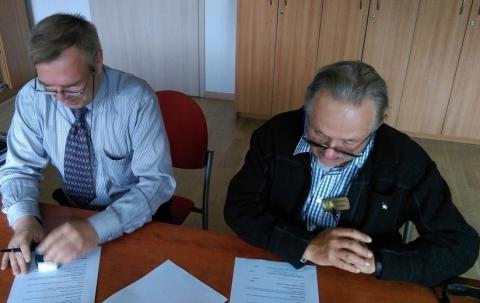 On 2 June 2017, the first BGCI / ArbNet partnership agreement was signed between Vilnius University (on behalf of the Vilnius University Botanic Garden), Lithuania and The Tasmanian Arboretum Inc. Australia.
The Cooperation Agreement was signed by Dr Audrius Skridaila for Vilnius University and Phill Parsons for the Tasmanian Arboretum.
Through the agreement, the two Parties agree to cooperate in the following areas:
Collections recording and managment with a view to improving the conservation outcomes for the living genetic material in each collection;
Sharing experience in volunteer management with a view to building skills in managing and working with volunteers within each of the Parties respective cultures
Sharing experience in the area of public education.
The BGCI /ArbNet Botanic Garden Partnership Programme is an international partnership building initiative that aims to facilitate the exchange of knowledge, skills and resources within the botanic garden community. BGCI member gardens are invited to participate in this partnership scheme, which is designed to ensure that reciprocal benefits will be realised by both Parties.
For further information, please contact partnerships@bgci.org