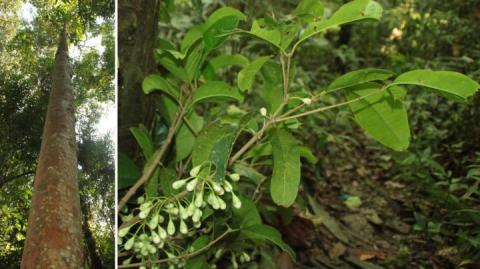 The Indonesian island of Sulawesi's unique fauna has received far more attention than its flora. But the authors of a study describing five new tree species — the first new species belonging to the world's largest tree genus found on Sulawesi in 167 years — hope to change that.
Syzygium is a genus of flowering trees and shrubs in the myrtle family that contains more than 1,500 species. Only 14 of those were previously known to occur on Sulawesi, the world's eleventh-largest island, however. By comparison, Borneo, Sulawesi's larger neighbor to the west (and the third largest island in the world), is home to around 200 Syzygium species.
PhD student Fabian Brambach was part of a team of ecologists with Germany's University of Göttingen who collected specimens of the newly discovered species while doing fieldwork in the mountain rainforests of Sulawesi's Lore Lindu National Park. The researchers couldn't identify some of the myrtle species they'd sampled when they got back to their lab. Brambach says that, in addition to the general lack of knowledge about the botanical richness of Sulawesi, that might be due to the abundance of known species in Syzygium, which could have discouraged researchers from focusing on the genus in the past.