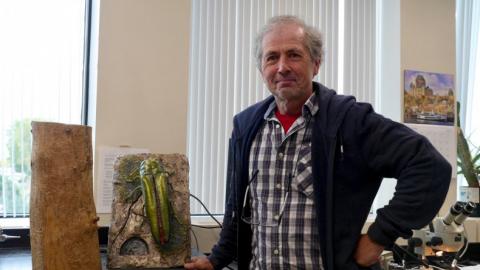 By Clothilde Goujard
Thousands of small test tubes were set up in neatly organized rows in the cupboards of Armand Séguin's laboratory.
Soon, the scientist would be filling them up with sap squeezed from the bark of ash trees.
Séguin has been studying cancer for more than two decades. Now he's turned his expertise to stopping the spread of the destructive emerald ash borer, a green metallic-looking beetle that is smaller than a fingernail.
Down the hall at the Laurentian Forestry Centre, scientists Yan Boulanger and Sylvie Gauthier are studying the ecological impacts and the public safety implications of wildfires. Their work is important to prepare for the impact of climate change that could accelerate the risks and intensity of wildfires.
The centre in Quebec City is one of five federal research hubs in Natural Resources Canada's Canadian Forest Service.
In peak summer seasons, some 200 employees are on the job at the centre, with staff of about 120 the rest of the year. Their research findings are used to assist the private sector and guide policies in numerous federal departments, such as Public Safety Canada, Health Canada and Indigenous Affairs Canada.
Director Jacinthe Leclerc said the centre's mission is to transfer the knowledge developed within its walls to other scientists and industry through data bases, conferences and publications.