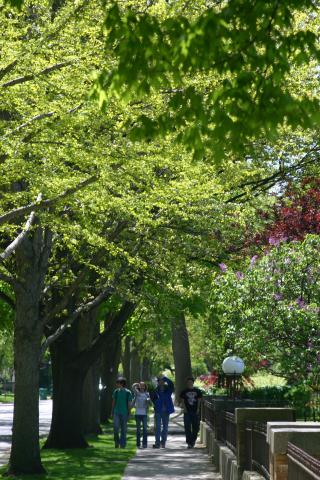 By Cindy Dampier, Chicago Tribune
When you think of climate change, you might be thinking melting glaciers, massive hurricanes or polar bears on dwindling ice floes. Add this to that grim list: The trees in your own backyard.
The birches in the corner of your kid's favorite park, the towering spruce in your suburban backyard, that graceful linden on your block — all are likely to disappear from Chicago's landscape over the next few decades, casualties of a climate that is suddenly ill-suited to their needs.
Yet, at least one corner of Chicago should have a pretty good chance of retaining most of its trees in the face of worsening climate change, says entomologist and climate scientist Dan Herms, vice president of research and development at national tree maintenance company Davey Tree. Jackson Park's Wooded Island, home to a restored Japanese garden and a statue by Yoko Ono, part of the historic remains of the 1893 World's Columbian Exposition and the site of continuing habitat restoration work, also has a collection of trees that are almost ideally suited to climate change survival.
"There are a list of species that will be favored as the climate gets warmer and the precipitation patterns change," says Herms on a walk around the island with Chicago arborist Shawn Kingzette, "and this is literally the list of those trees."
We all know Chicago's climate is tough — for our trees, it's about to get a lot tougher.
"We'll have wet springs, more big storms in the summer, but not necessarily more precipitation," says Herms. "More snow will be falling as rain. And it looks like the polar vortex will be a part of the change in climate. It will continue to be a factor for the Midwest and Northeastern United States."
In other words, says Kingzette, who also works for Davey Tree, "You might be able to grow Southern varieties (of trees) here as the climate gets warmer, but they also had better be able to tolerate 20 below."