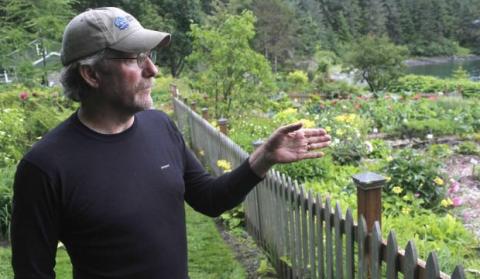 By Alex McCarthy
During its 10 years of existence, the Jensen-Olson Arboretum has gone from a well-kept secret to a full-blown destination, but very little has changed at the garden itself. Arboretum Manager Merrill Jensen has managed the garden for the entire 10 years, adding little by little but trying to follow the wishes of Caroline Jensen (no relation to Merrill). Caroline gifted the arboretum to the city in 2007, with the stipulation that it not become an overrun tourist destination.
Still, around 54,000 people have visited the garden during the past decade, with more coming each year."Compared to the Mendenhall Visitor Center, (that's) not a lot over that time frame," Jensen said via email, "but Caroline's vision was for our space to be more intimate where people can come to contemplate and quietly enjoy the space."
To accommodate a growing amount of visitors, the Juneau-Gastineau Rotary Club and the Friends of the Jensen-Olson Arboretum have helped raise money and put small construction projects in motion. The rotary build a small covered structure in one end of the garden that didn't get much traffic, and now people are going there more often, Merrill said.
The next project is a 20-spot parking lot that will be built soon, possibly finished as soon as mid-September, Merrill said. It will be located near the street, and Merrill said it's a much-needed addition.