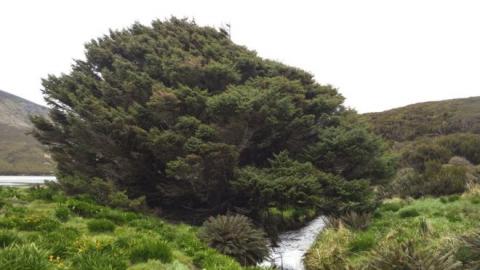 By Jonathan Amos
It's been dubbed "the loneliest tree on the planet" because of its remote location, but the Sitka spruce might represent something quite profound about the age in which we live.
The tree, sited on Campbell Island in the Southern Ocean, records in its wood a clear radioactive trace from the A-bomb tests of the 1950s and 60s. As such, it could be the "golden spike" scientists are seeking to define the start of the Anthropocene Epoch - a new time segment in our geological history of Earth.
The suggestion is that whatever is taken as the golden spike, it should reflect the so-called "Great Acceleration" when human impacts on the planet suddenly intensified and became global in extent. This occurs after WWII and is seen for example in the explosion in plastics production.
Chris Turney, from the University of New South Wales, Australia, and colleagues, say the Sitka spruce captures this change exquisitely in the chemistry of its growth rings.
Date:
Tuesday, February 27, 2018