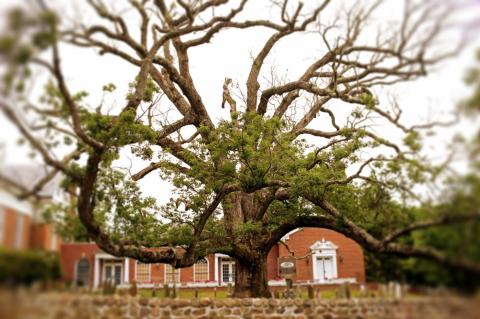 By Amy Ellis Nutt
Well before Columbus sailed to the New World and even before Gutenberg invented the printing press, there grew a great oak tree in a land that would one day be called New Jersey.
The oak was already old when farmers built a church beside it in 1717. And when the people came and kept coming, a town called Basking Ridge was built around the church that was built beside the tree.
Town and tree would always be inseparable, or so the people thought.
In 1740, English evangelists James Davenport and George Whitefield preached beneath the tree, spreading the word of the "Great Awakening" to more than 3,000 people. George Washington's troops drilled on the village green in view of the ancient oak, and the general picnicked beneath it with his friend the Marquis de Lafayette. On his way to the Battle of Yorktown, Gen. Jean-Baptiste Rochambeau marched 5,500 French soldiers past the oak and into history — and soon after the tree shaded the graves of 35 veterans of the revolution.
Through war and natural disaster and a thousand storms or more, the tree survived. In the 1920s, four men scooped out part of its rotted trunk and then stood inside it, amazed at its girth, before pouring concrete into the cavity to save the oak. They also added cables and "crutches" to ease the weight of the branches grown longer than the tree was tall.
And when drought parched the community in the 1970s, residents didn't mind when volunteer firefighters slaked the oak's thirst. "And if at any time, we have another drought and people are told they can't water their lawns, they can't fill their swimming pools, there will always be water for this tree," a town historian said years later.