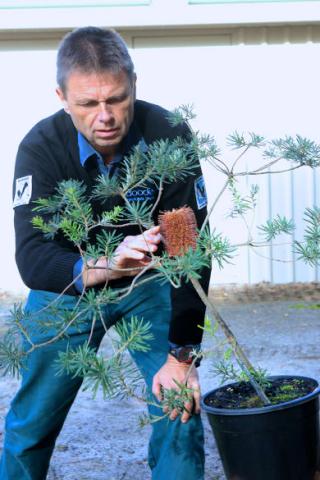 By Blake Foden
Only four are known to exist in the wild, making the Banksia vincentia one of Australia's rarest plants.
But conservationists in Canberra and on the NSW South Coast hope its critically endangered status will soon be a thing of the past as they work to drastically boost the flowering plant's numbers and secure its future.
The species is only found in the wild near the small South Coast town of Vincentia, but new seed orchards are now being constructed to protect and propagate the plants at Booderee National Park at Jervis Bay and the Australian National Botanic Gardens in Canberra.
Booderee National Park acting botanic gardens curator Stig Pedersen said he hoped to propagate at least 800 Banksia vincentia plants in the Booderee orchard by 2020.
Mr Pedersen said no decisions had been made yet about how many of those would then be reintroduced into the wild, or whether they would be reintroduced in the same area as the four surviving plants.
"It will take a few years before they mature and set seed," he said.
"By autumn 2020, we hope to have the bulk of the orchard established, but reintroducing [the plants] to the wild is a few years away."