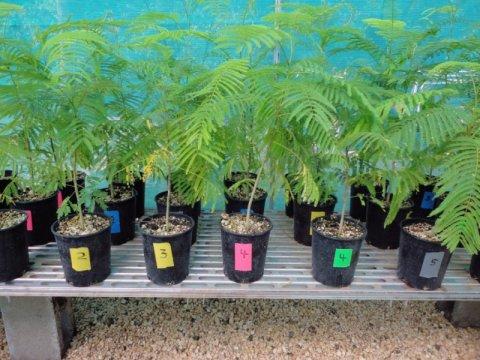 Many rare tropical tree species are restricted to a small, endemic range with very few remaining reproductive individuals. These species suffer from many threats. Conservation agencies often attempt to rebuild the population within the known endemic range of these endangered trees.
This desire to rebuild robust populations of rare trees is constrained by the need to protect any remaining adult trees. Conservation permitting agencies generally limit the number of seeds and cuttings that can be taken by conservation practitioners. The unfortunate result of these justifiable restrictions is that very few new propagules can be produced every year for the purpose of rebuilding the population.
Serianthes nelsonii is found on two small islands in the Mariana Island Archipelago, and the population has declined to one individual on one of those islands. The recovery plan for this species calls for the propagation of more than 4,000 transplants for out-planting into several population sties. Recent propagation research conducted at the University of Guam has opened up new protocols that may greatly expand the number of propagules that can be produced every year in support of these goals. The results were published in the current issue of the journal Tropical Conservation Science.