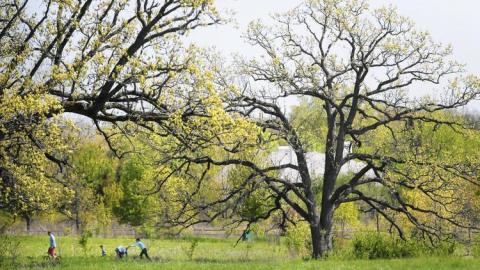 By Patrick M. O'Connell
Before the farms began to stretch as far as the eye can see on the Midwestern landscape, before the fur trappers and settlers established towns along the Chicago area's rivers and lakes, there was the majestic oak tree. They grew by the millions, hundreds of years old, in stands called savannas, one of the defining characteristics of the Midwestern topography.Today, the savannas are virtually gone, a casualty of American industriousness and prosperity. But along the way, something else was lost — a vital link in the area's ecosystem, one that provided shelter for a range of plants, animals and insects that thrived under the oak tree's protective canopy.
Now, a broad-based effort is looking to bring them back. Scientists, foresters, naturalists and environmental organizations in the upper Midwest have launched a series of initiatives to restore what remains of the bur and white oak savanna ecosystems and woodlands. "This is in a sense our rainforest, our national heritage," said Craig Maier, coordinator of the Tallgrass Prairie and Oak Savanna Fire Science Consortium.
In Illinois, the push has gained enough momentum that it is expanding from forest preserves and state parks toward private lands. Most of Illinois' 4.1 million acres of forest land is privately owned, said Bill Gradle, of the Illinois Forestry Development Council.
A new program rolling out this year will help landowners pay for restorations and help residents learn the techniques for returning their land to the native savannas and woodlands so oaks can thrive again. Degradation of oaks, considered a keystone species, is the top priority of the state's forestry action plan.
"People are getting concerned," Gradle said. "Oaks are just taking a beating."The publicly funded initiative, though it does not exclusively target savannas, will ultimately send $2 million over the next four years to private landowners, paying for brush management, weed control, prescribed burns and removal of unwanted trees and shrubs.