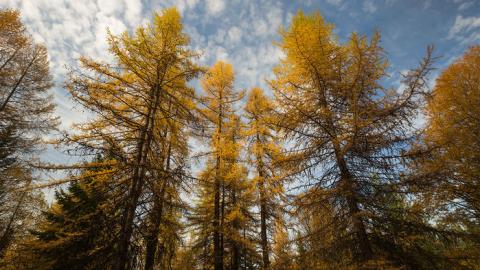 By Ula Chrobak
Forests are feeling the heat. In places like the American West, rising temperatures and drought mean less water for trees, sometimes shriveling swaths of woodland. Now, scientists have found that thinning early in forest growth creates tougher trees that can endure climate change. What's more, these thinned forests can suck carbon out of the air just as fast as dense forests.
"When it comes to carbon sequestration and climate change adaptation, we can have our cake and eat it too," says Andrew Larson, forest ecologist at the University of Montana in Missoula and author of the new study. "It's a win-win."
As trees grow, they convert carbon dioxide to food and store it in their leaves, trunks, and roots. U.S. forests capture between 10% to 20% of U.S. emissions each year. But if trees get too crowded, they compete for light and water—and stressed trees are more susceptible to drought and insect attacks. Removing some trees can ease the competition, letting the remaining trees grow big and healthy. But scientists worry that removing trees can reduce forest carbon storage. These worries, however, are based mostly on models and short-term studies.