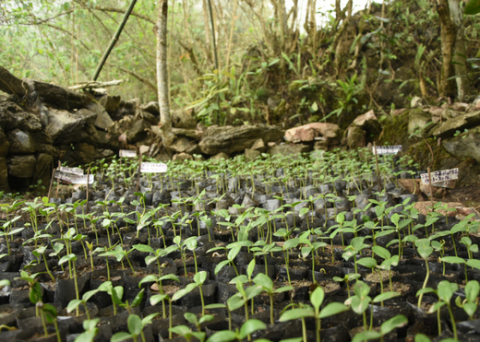 In the limestone hills of northern Vietnam, villagers have been busy planting one of the world's rarest magnolias back into its natural habitat.
More than 1,100 seedlings from the Critically Endangered Magnolia grandis have been planted out by people from three villages in Ha Giang province, northern Vietnam. In a bid to save the species from extinction, seedlings were planted in community forests – areas of land protected by village regulations – and within plantations of cardamom.
Planting will help to boost the population size of the species which had fallen to fewer than 150 adult trees as a direct result of illegal logging and loss of the species' forest habitat to farming.
The work may also help to support the livelihoods of cardamom farmers as cardamom grows best in shade provided by moderate to high levels of canopy cover. Some farmers are looking to plant fast-growing species, like Magnolia grandis, to increase canopy cover and protect their crops from winter snowfall.