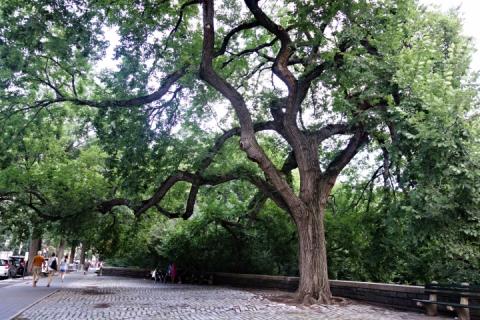 By Allison Meier
The recently launched Treepedia from the Senseable City Lab at the Massachusetts Institute of Technology (MIT) visualizes the "green canopy" of street trees in cities around the world. Harnessing the existing data on Google Street View, the interactive site was created in partnership with the World Economic Forum's Global Agenda Council on the Future of Cities and its Global Shapers Community.
Carlo Ratti, Senseable City Lab director, stated in a release that as "many cities experience warming temperatures, increased storm frequency, and continued air pollution, the well-being of our urban trees has never been more important." Trees can help control rain water, cool urban heat spots, and absorb carbon dioxide pollution. Nevertheless, as Treepedia shows, many metropolitan areas are underserved by greenery.
MIT Senseable City Lab's "Treepedia" (screenshot by the author for Hyperallergic)
Notably, Treepedia does not map trees from arboretums, botanic gardens, or parks, as it's accessing the photography of Google Street View. This might seem counterintuitive, but flourishing greenery on neighborhood roads and sidewalks is essential to a healthy city. The preliminary sample of cities includes Amsterdam, London, Cape Town, Tel Aviv, Los Angeles, Frankfurt, New York, Geneva, and both Boston and Cambridge in Massachusetts, where MIT is based.
Access MIT Senseable City Lab's Treepedia online.