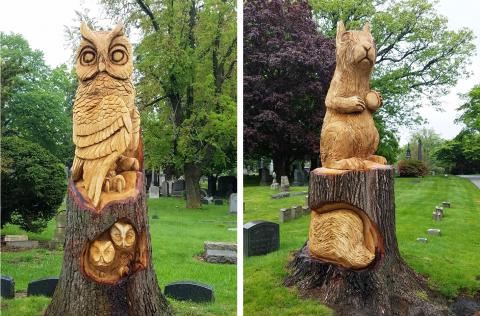 By Stephanie Hoina
Opened in 1863, and long known as the final resting place of some of history's most notable figures— Irving Berlin, Miles Davis, Duke Ellington, Robert Moses, F.W. Woolworth, and Herman Melville, to name a few–the Bronx's Woodlawn Cemetery and Conservatory is also home to many treasures of the living variety. When one of Woodlawn's trees (of which there are a whopping 140 different species!) meets its ultimate fate, the cemetery doesn't merely bury it but rather celebrates its life by carving it into an animal that can be found on the grounds.
Spread across the National Historic Landmark's nearly 400 acres (roughly half the size of Central Park) are thousands of beautifully maintained mature trees representing more than 140 unique species and cultivars, five of which have been identified in the "Great Trees of New York" program, including a Japanese Umbrella Pine and a native Eastern White Pine. The collection also boasts one of the largest empress trees in New York, which is native to China, and a native Tulip Poplar that measures over 125 feet tall and 63 inches in diameter!
In 2017, the cemetery's devotion to its green giants was rewarded with a Level II Accreditation by the ArbNet Arboretum Accreditation Program and the Morton Arboretum, an impressive accomplishment for this bucolic space smack dab in the middle of one of the city's most bustling boroughs.