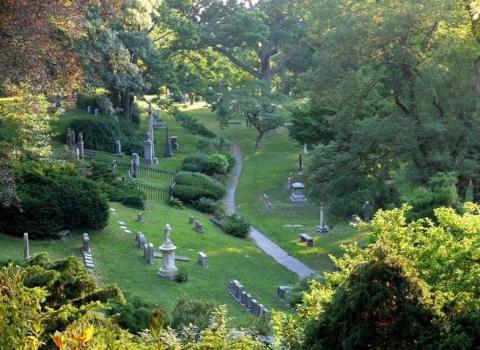 In a changing climate, cemeteries make great laboratories.
Paul Kwiatkowski's office window offers an unusual view. Where other panoramas provide glimpses of busy city streets or slumbering office parks, Kwiatkowski's Cambridge, Massachusetts workspace is surrounded by 174 acres of urban greenspace. There are trees of near-infinite variety, structures dating back to 1831, and about 100,000 graves.
Kwiatkowski is the wildlife conservation and sustainability manager for Mount Auburn Cemetery. Situated just west of Boston, the historic graveyard and arboretum neighbors Harvard University and Massachusetts General Hospital. Permanent residents include the behavioral psychologist B.F. Skinner, geodesic dome inventor Buckminster Fuller, and legendary botanist Asa Gray. And newly deceased members join the ranks each day.
Like many burial grounds, Mount Auburn is also home to innumerable plants and animals, which skim the surface of its ponds, flutter in its treetops, and amble along its winding trails. But in recent years, Kwiatkowski has positioned the cemetery as an important and in-demand laboratory, one that will help researchers monitor the advance of climate change on Massachusetts and the world.
In the 19th century, cemeteries weren't just eternal resting places. They were also spaces of leisure popular among the living. Long before Central Park in New York was founded, or the Emerald Necklace in Boston complete, "rural cemeteries" like Green-Wood in Brooklyn or "garden cemeteries" such as Mount Auburn in Cambridge provided urbanites with much-needed opportunities for recreation. Archival photographs show just how much fun the cemetery could be: Americans in their best corsets, picnicking atop graves.
Today, we're more likely to cross our hearts while passing a cemetery on the street than step into its gated confines for a sit-down meal. But the value of this greenspace has only grown as the communities around them have densified and urbanized—leaving cemeteries as unique nature preserves. In the case of Mount Auburn, people have consciously planted diverse trees, shrubs, and flowers from all over the world and cared for them tenderly over decades or even centuries. In other cases, though, plants that might otherwise be replaced by foreign varietals can thrive under a cemetery's more passive management style, like the prairie cemeteries of Illinois, or even the woodsy outerboroughs of New York City.
Date:
Wednesday, October 24, 2018