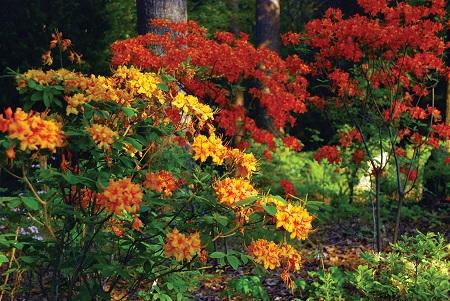 By Katie Jackson
Fire in the hills. That's what American naturalist William Bartram thought he was seeing when he rounded a wooded bend on the Savannah River in the late 1700s and saw an entire hillside ablaze with red and orange color.
It wasn't fire that Bartram saw, however. It was a stand of native Flame azaleas blooming in all their intense glory, a sight that is increasingly rare these days in the wild, but is being preserved and expanded by a dedicated cadre of modern-day horticulturists.
Native azaleas, often called bush honeysuckles, are relatives of the white and pastel-colored landscape azaleas that herald spring in Alabama. Both types of azaleas are members of the rhododendron genus; however, those iconic "Southern" azaleas actually originated in Asia and were brought here via England in the 1800s. Native azaleas, on the other hand, have been here since long before humankind was around to appreciate their beauty.
Though related, Asian and native azaleas have distinct differences. For example, native azaleas are deciduous, not evergreen, like their Asian cousins, and native azaleas bloom in a palette of colors from gentle whites and pinks to brilliant yellows and intense oranges and reds.
Of the estimated 17 species of native azaleas in the United States, most are found along the east coast and a dozen or more of those are native to the Southeast. Depending on the type, those Southeastern native azaleas can range in height from knee high up to 15 feet at maturity and have bloom times in spring, summer or early fall.
Sadly, habitat destruction has severely diminished many pockets of wild native azaleas, but groups of guardians are working hard to preserve and expand native azalea numbers. Those guardians can be found throughout the state and beyond, including one enclave in east central Alabama.
Among that group is Robert Greenleaf, emeritus professor of music at Auburn University who has some 300 different native azalea varieties growing around his Auburn home. The son of an Auburn University horticulture professor, Greenleaf remembered seeing native azaleas in the woods when he was young. When he came back to Auburn as a music department faculty member in the 1970s, Greenleaf began planting them around his house site.
Date:
Wednesday, March 16, 2016