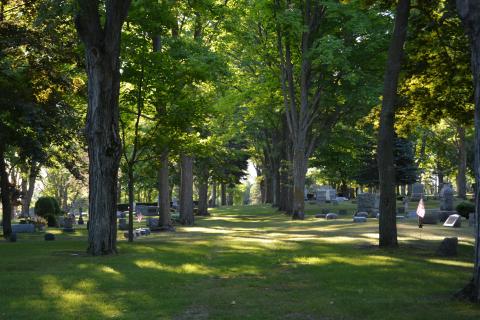 By Lore Croghan
The trees that shelter the dead at famous Green-Wood Cemetery also work 24/7 to protect the living.The trees capture and store about 250,000 pounds of atmospheric carbon annually. That's the equivalent of 88.3 cars' greenhouse gas emissions for a year.The trees remove around 12,000 pounds of pollutants from the air annually: ground-level ozone, carbon monoxide, sulfur dioxide and particulate matter.They also capture about 2.5 million gallons of stormwater and keep it from flowing into Brooklyn's sewers.
The cemetery is launching new initiatives to take good care of these trees — or its "living collection," as Joseph Charap, Green-Wood's director of horticulture, refers to them. "We're really aggressively conducting a reforestation plan," Charap told the Brooklyn Eagle.
Starting in April, 100 trees will be planted along the Greenwood Heights cemetery's fence line and 180 trees will be planted within the cemetery, he said. The group of new trees will include native and exotic species with a focus on trees that do well in warmer winters. There will be "wildlife-enhancing species" and "pollinator trees," Charap said. Reforestation is one element of a new arboretum management plan Green-Wood has devised with funding from a state urban and community forestry grant.
Date:
Thursday, February 28, 2019