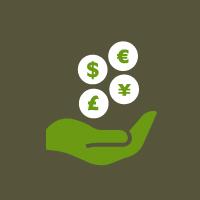 A major surge in climate resilience funding is allowing urban forestry departments to focus on trees. About $1.5 billion of funding will be invested in the U.S. Department of Agriculture's Forest Service Urban and Community Forestry Program.
Driving along the Rock River, Mitch Leatherbie, a street superintendent for the city of Rockford, Illinois, spots a pair of trees he considers survivors."There's two ash trees, right, they're still standing," said Leatherbie. "... Those were just a couple of them that we kept."
In the early 2000s, Rockford lost approximately 5,000 ash trees to the emerald ash borer, an invasive beetle. The beetle was first identified in Michigan in 2002 and has since killed tens of millions of ash trees across the country. The pest left a lasting impression on urban forest managers.
"So what you want to do is focus on diversification of species in an urban forest," Leatherbie said, "so that when a pest or something comes along, and it focuses on one species, it's not wiping out 20% of your inventory."
Pests, disease and severe storms are rapidly changing the makeup of urban forests all over the U.S. But adapting is expensive and can be a real barrier for local governments that don't typically budget with robust urban forests and canopies in mind. Now trees are getting a windfall.
The Inflation Reduction Act included $1.5 billion of funding over the next nine years dedicated to the Forest Service's Urban and Community Forestry Program.
"So it's an unprecedented increase, one that is very needed," said David Sivyer, a regional manager for the U.S. Forest Service. "We'll help to meet many of the chronic challenges that our cities face with respect to extreme heat, flooding, vulnerabilities to storms, that we see increasing in the landscape today."