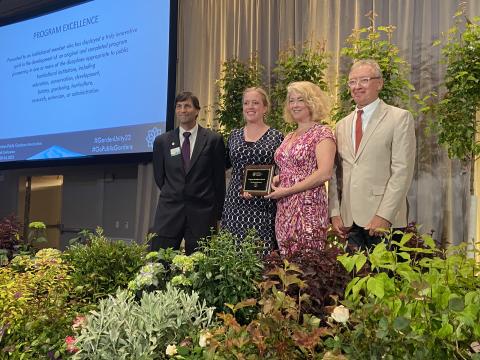 June, 2022
ArbNet was honored with the 2022 American Public Gardens Association (APGA) Program Excellence Award. The award celebrates an original and pioneering public horticulture program. In the over ten years since The Morton Arboretum established ArbNet, we've made great strides in tree planting and care, facilitating collaboration among gardens and arboreta, and providing opportunities for the botanical community to grow. The program has accredited more than 500 arboreta globally.
ArbNet —the global, interactive community of arboreta— is an original program that truly encompasses the innovative spirit and high impact associated with the Program Excellence award.
Trees, the backbone of most terrestrial ecosystems, provide critical benefits to people and the planet. Despite their importance, canopy loss is occurring worldwide and trees are frequently under-researched and under-conserved. Given their size and long-life span, trees require specific curatorial and horticultural care. Additionally, botanic gardens and arboreta are equipped to stop biodiversity loss through their collections, expertise, and facilities. Increasing the number and professionalism of tree-focused botanical gardens can support a healthier planet during this sixth mass extinction. These opportunities underscore the importance that: 1) trees are essential for life on this planet; 2) people need access to trees and tree-focused gardens to receive the benefits that trees provide; and 3) tree-focused gardens need professional support and networking to research, conserve, and care for trees.
To address these opportunities, in 2011, The Morton Arboretum, with the endorsement and cooperation of the American Public Gardens Association (APGA) and Botanic Gardens Conservation International (BGCI), established ArbNet. This unique program identifies arboreta through the Morton Register, defines industry standards through the ArbNet Accreditation Program, raises professionalism, supports tree plantings and proper care, facilitates collaborations, and advances tree research and conservation. 
Over the past decade, ArbNet has created meaningful partnerships and long-lasting impact for tree-focused gardens. As of the end of 2021, >2,100 arboreta have been identified through the Morton Register, and 500 arboreta in 37 countries have become accredited through the accreditation program. The ArbNet team connects arboreta through its website, social media, international virtual conferences, training opportunities, online resources and toolkits, an international conservation partnership program, research and conservation opportunities, and a quarterly newsletter.
Into the next decade, ArbNet will engage its large, and growing audience, by continuing to support gardens in reaching their professional goals and milestones, sharing best practices and resources, improving urban forestry by supporting municipal tree collections, building capacity for smaller arboreta through grants and professional opportunities, establishing arboreta in biodiversity hotspots to facilitate conservation, supporting tree conservation efforts through partnership and networks, and finally, supporting scientific and horticultural research in arboretum collections of all sizes.
The ArbNet program is unique and impactful, which can be seen by its global footprint and diversity of gardens. ArbNet supports a greener, healthier, and more beautiful world.