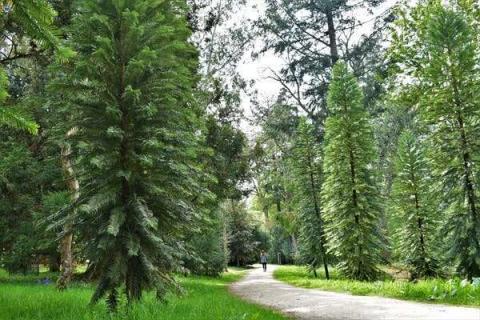 As bushfires blackened forests last summer, one tree species was protected by a specialist team of firefighters: the Wollemi pine.
These trees have a deeply ancient lineage dating back to when dinosaurs walked Gondwana 100 million years ago. Back then, rainforests—including Wollemi pines (or their cousins) – covered what became Australia.
So when a handful of Wollemi pines were discovered alive in 1994 on the brink of extinction, it caused a frenzy of interest that has barely died down among plant enthusiasts.
Today, fewer than 100 mature pines are left in the wild. But their exact location is one of the best kept secrets in Australian plant conservation, to protect them from pathogens such as the root-rotting phytophthora that might hitch a ride on human visitors.
But while rare in nature, our ongoing research with citizen scientists is finding Wollemi pines grow in backyards all over the world, in a range of environments, and this information can inform how we can protect them in the wild.