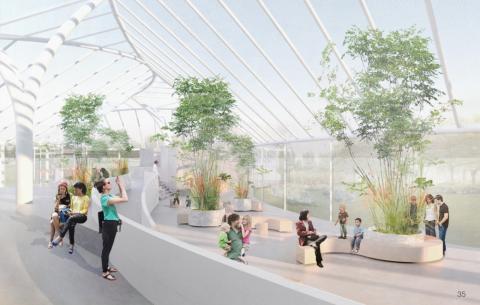 The Albright-Knox Art Gallery is not the only cultural institution holding a fall groundbreaking.
In the case of the Buffalo & Erie County Botanical Gardens, though, it's coming a year later.
The first large-scale expansion of the Botanical Gardens in more than a century is proceeding – following numerous meetings over the past several months, including with the McKinley Parkway Homeowners Association, Buffalo Olmsted Parks Conservancy, the Niagara Frontier Orchid Society and at Buffalo and Lackawanna community forums.
Officials have met with local, state and federal lawmakers who can help deliver funds needed to turn the planned 40,000-square-foot, $18 million project into reality.
Architect Toshiko Mori – who designed the Greatbatch Pavilion at Frank Lloyd Wright's Martin House Complex – is working on the design-planning phase for the Botanical Gardens' expansion that will feature a large glass building on the southwestern side of the conservatory.
Date:
Tuesday, December 3, 2019