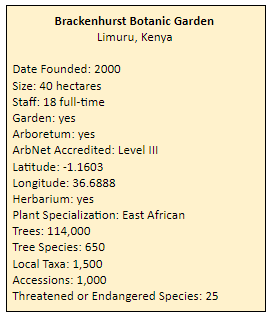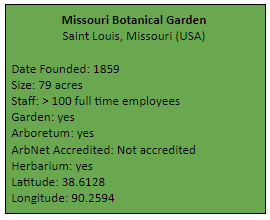 Introduction
The majority of Kenya's population lives in the Victoria Lake Basin and relies on its tributaries for crop production and grazing. These rivers, however, are drying because of the industrial-scale cultivation of tea and eucalyptus, as well as continued land pressure from urbanization and smallholder agriculture. Eucalyptus, which requires a large water input, is used for fuel wood, which is in turn used to power dryers for the tea leaves. This pattern is typical for the district as the indigenous forest has become swallowed by coffee and tea plantations and inundated by swaths of invasive species like cypress and Australian black wattle (Acacia mearnsii). This is also reflective of the larger trend of deforestation across Kenya. Indeed, in 1963 10 percent of Kenya's total land was covered by forest, compared to just 2 percent in 2006. Similarly, in the local context, the Mau forest has lost over 100,000 hectares in the last two decades. At a community level, indigenous forest restoration is difficult due to animal husbandry practices as cattle are destructive to tree bark and growth. 
In order to prevent further deforestation, the Brackenhurst Botanic Garden (Brackenhurst) was established in 2000 and received a Level III accreditation from ArbNet in 2017. Brackenhurst is situated in the Victoria Lake Basin in Limuru district—some 25 kilometers Northwest of Nairobi, Kenya. Brackenhurst was successful in reviving its own watershed. Prior to restoration, less than two percent of the indigenous forest remained. By protecting the land as a botanic garden, restoration was possible. 
Brackenhurst has no taxonomist but has a keen professional interest in field botany and horticulture/arboriculture of indigenous East African woody species. In October 2018, Brackenhurst and Missouri Botanical Garden (Missouri) were awarded U.S. $3000 as a part of the The ArbNet/BGCI Partnership Programme. The program facilitated a capacity building partnership between the two gardens. Brackenhurst was paired with Missouri because of Nicholson's established relationships with Missouri's conservation staff who specialize in East African plants. With several East African plant experts from Missouri now on Brackenhurst's board, the garden updated its accessions list with details on provenance of its vulnerable and endangered species. The partnership also benefits Missouri, since Brackenhurst is now in a position to make local and regional collections on behalf of Missouri's Africa and Madagascar Conservation program, directed by Dr. Pete Lowry.
Brackenhurst: A success story
In 2000, Nicholson was taking a walk near his home when he came upon a dead cow. Heading to the Brackenhurst Convention Center to report the dead animal to his neighbor, Nicholson came upon the Director of the convention center and he took up a conversation about the center's plans for its grounds. They had none. "What would you do?" the Director asked. Nicholson, a seasoned ecologist, suggested restoring the indigenous forest. After several conversations, Nicholson convinced the Director to give his Non-governmental organization, Plants for Life International, the opportunity to complete the project.
Each year since its inception, Brackenhurst has restored 2 hectares of native forest for a total of 40 hectares. Two decades later—biodiversity is booming: 187 bird species (compared to just 35 in 2000) and 120 species of butterflies now live in the forest. Mammals have colonized too, including Colobus and sykes' monkeys, civet and genet cats, porcupines, bats, African hedgehogs, bush pigs and bushbabies. Some 20 species of indigenous orchids can be found throughout the understory, along with lianas, ferns and herbaceous species. Ecological restoration has resulted in improved ecosystem services, including soil fertility and watershed protection. What used to be a trickling perennial stream is now roaring 365 days a year in the Brackenhurst valley.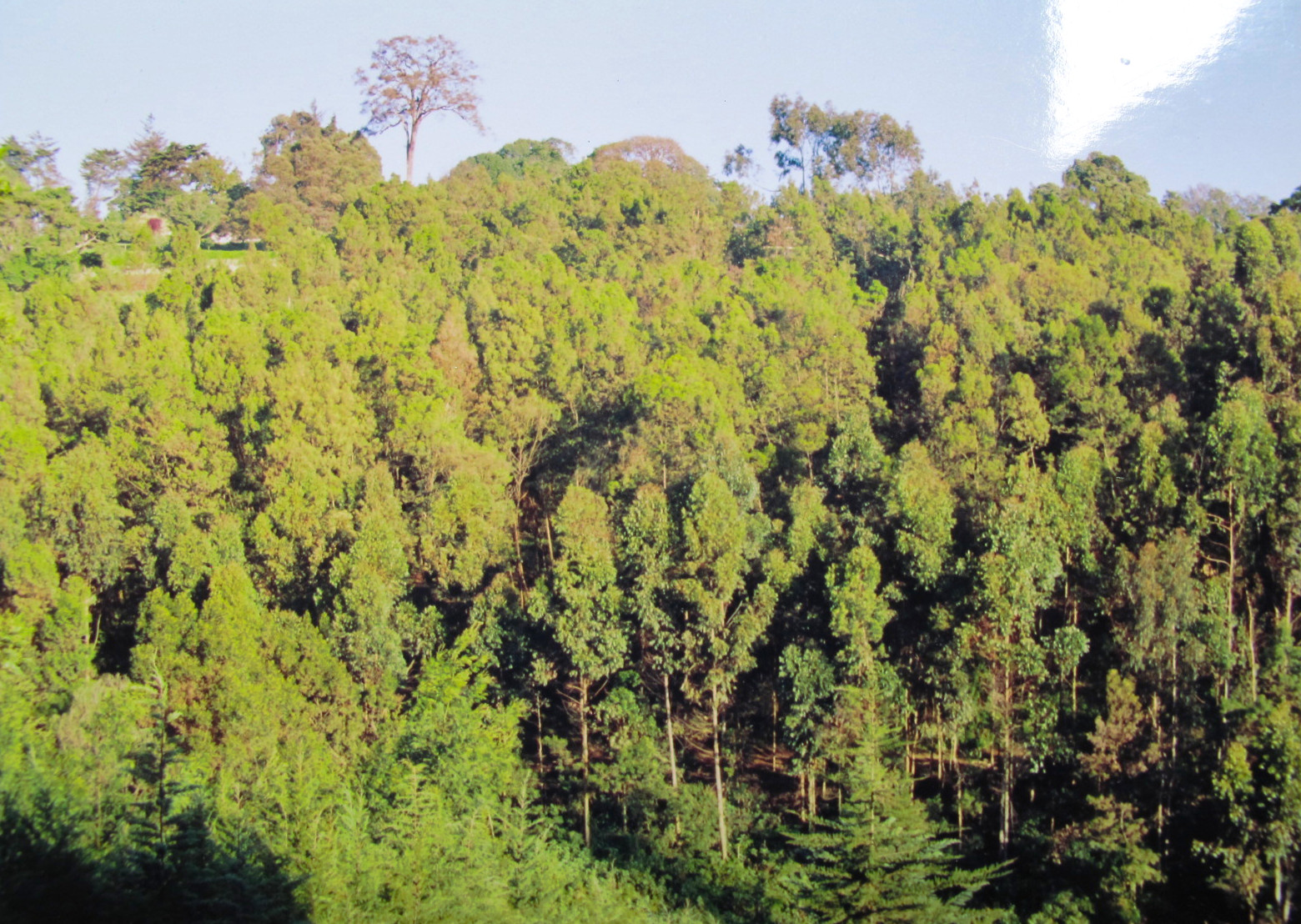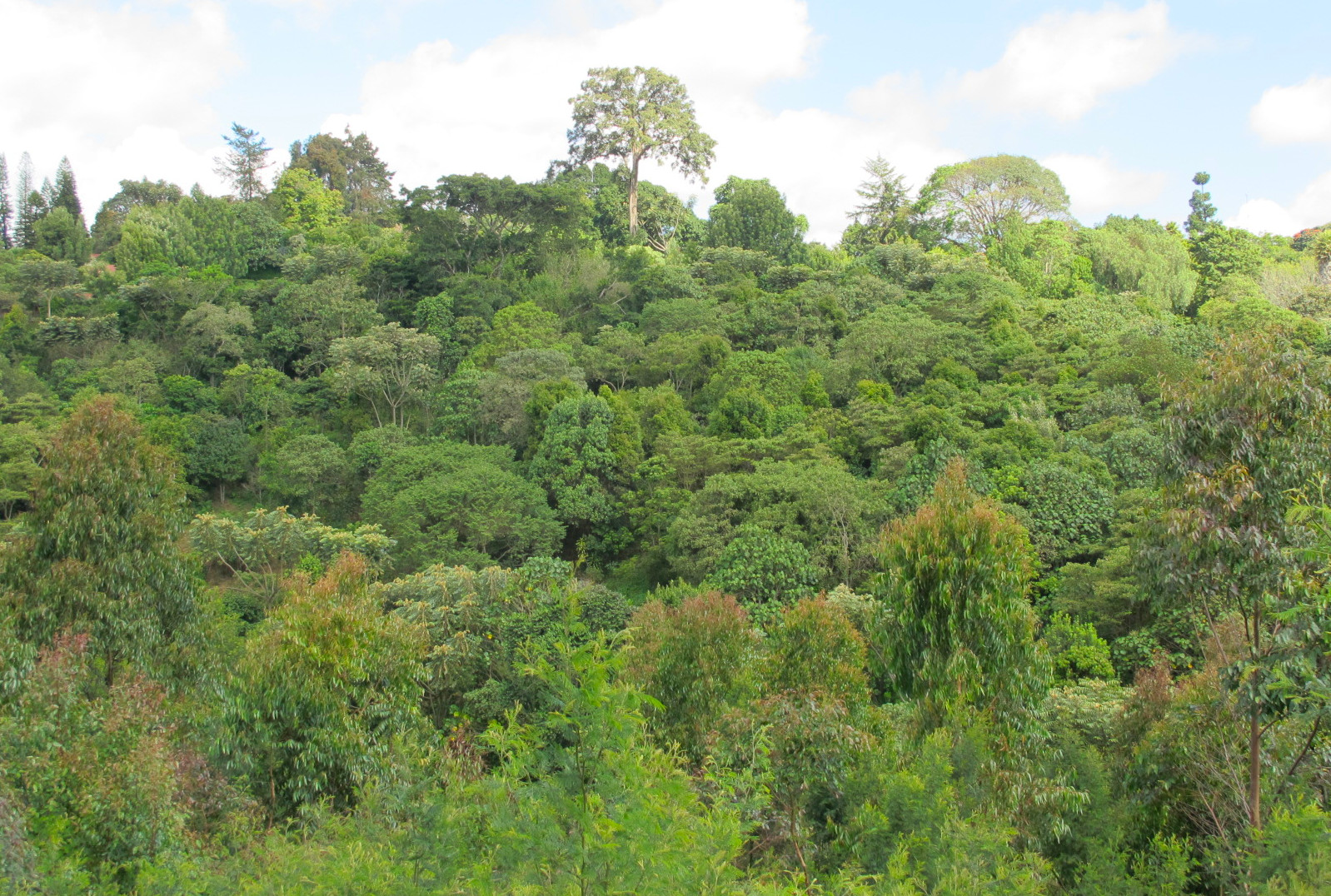 Left: Eucalyptus and exotics forest at Brackenhurst in 2000, prior to restoration. Right: Same view of restored forest with native species in 2015. Images: Mark Nicholson. 
Key species
Collections of seeds and wild cut plants, propagation efforts in the nursery, and subsequent planting in the restored forest is providing conservation for a number of endangered East African species. For example, the Mulanje cedar (Widdringtonia whytei) from Mt. Mulanje in Malawi, which is soon to be extinct in the wild, is being conserved at Brackenhurst. The Clanwilliam cedar (W. cedarbergensis) from South Africa also finds protection at Brackenhurst. Brackenhurst supports propagations of more than 100 young Embelia keniensis, a woody endemic climber, which is listed on the International Union for Conservation of Nature (IUCN) Red List as Critically Endangered. African cherry (Prunus africana), Podocarpus and Ugandan greenheart (Warburgia ugandensis), until 100 years ago were common trees in Kenya, but they are all now listed as Vulnerable on the IUCN Red List of threatened species—these species are also found in the regenerated forest at Brackenhurst. 
A new partnership
The new partnership facilitated by ArbNet and BGCI adds to both Brackenhurst's conservation capacity and its capacity as a restoration project. With Missouri's experitise in East African plants, Brackenhurst updated its accessions list. The grant allowed Brackenhurst's staff to take three additional field trips to procure threatened East African plant species: One in Kenya (Mt. Kenya, Kakamega and Taita Hills); one to Tanzania; and one to Uganda to collect new species (Polyscias stuhlmanni from Taita Hills, Kenya and Encepherlartos whitelockii from W. Uganda). 
A full accessions list and the opportunity to add more species to its grounds allows Brackenhurst to monitor its progress so that it can provide consultancy advice to other forest restoration projects. For example, growth and survival rates of the woody species, canopy width and surrounding weed cover are all being recorded to determine which species are best for restoration. The seed collection and species-specific knowledge generated through the forest restoration project makes Brackenhurst an important partner in conservation. 
Brackenhurst offers courses on permaculture design, ecological restoration, plant propagation, botanical identification, ethnobotany, floristics and invasive species management. With the grant money, Brackenhurst further developed its education program, which included updating its educational and publicity leaflets. The lasting partnership allows the two gardens to coordinate on internships and training. 
Conclusion
The Brackenhurst/Missouri partnership, facilitated by the ArbNet/BGCI Partnership Programme, forwards both garden's goals to advance in situ and ex situ conservation of East African woody species. Brackenhurst demonstrates the value of a garden-led approach to restoration—standing as a model institution for indigenous tree reforestation and conservation in Kenya. Brackenhurst  helps to extend this model through education and outreach activities so that other gardens might replicate these successes in East Africa. If replicated, reforestation projects like the one at Brackenhurst also serve as a means to starve off climate change.
Resources
Shaw, K. Nicholson, M. Hardwick, K. (2015). Encouraging and Enabling a Science-Based Approach to Ecological Restoration: An Introduction to the work of the Ecological Restoration Alliance of Botanic Gardens (ERA). The Journal of Botanic Garden Horticulture, No. 13: 145-151. 
Oldfield, S. Newton, A. C. (November 2012). Integrated Conservation of Trees by Botanic Gardens: A Reference Manual. Botanic Gardens Conservation International.
Nicholson, M. Brackenhurst Botanical Garden & Native Forests, Kenya An Ecological Restoration Project 2000-2030. Royal Botanic Garden. Retrieved from: http://royalbotanicgarden.org/sites/default/files/files/Mark%20Nicholson.pdf
(January 2019). Forest Restoration in the East African Uplands. Ecological Restoration Alliance of Botanic Gardens. http://www.erabg.org/project/44/  
Forest Restoration - Saving East Africa's Rare Trees. Global Trees Campaign. Retrieved from: http://globaltrees.org/projects/saving-east-africas-rare-trees/
~ Sasha Kramer