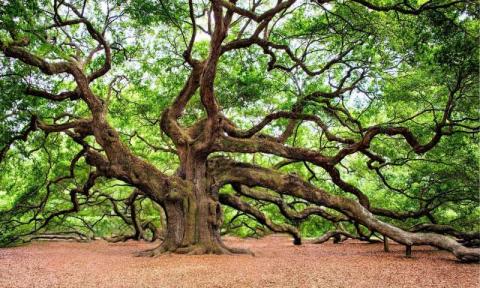 According to Dr. Dave Kendal from the University of Tasmania, in the next 50 years, 20-50% of current plant species in botanic gardens and urban landscapes will likely confront temperatures those species have never experienced before.
Last month, as the State closed on one of its hottest and driest years on record, a giant White Oak (Quercus alba), that had stood for over 150 years on the famous Oak Lawn at Royal Botanic Gardens Victoria, simply collapsed, leaving a gaping hole in the City's most iconic landscape.
The much loved tree, thought to have been part of the 1862 planting of oaks in and near the Gardens, had shown signs of stress during routine monitoring by the Arboriculture team in the days leading up to the collapse. Urgent expert assessments were made to see if it was possible to save it.
"We investigated every option possible to save it, but in the end the damage and stress was simply too extensive."
The tree was fenced for the safety of the more than 5,000 visitors who come to the Gardens every day, until further tests could be completed. Sadly, later that week a major limb failed completely. It crashed to the ground within the fence, leaving a swathe of debris and leaves across the lawn.
"We haven't removed it entirely yet," says Professor Tim Entwisle, Director and Chief Executive, RBGV. "We are going to leave the major branches there for a while, giving everyone a chance to say goodbye and as we look at ways to give some of the wood a second life."
"We are not sure yet of the cause of its demise, but it likely to be a mix of old age, droughts, winds and climate change. While this species lives to 300 years or more in natural habitat of eastern and central North America, in the warmer Melbourne climate oaks and elms grow twice as fast and can senesce at younger age. But that's only part of the story."
Date:
Thursday, January 30, 2020