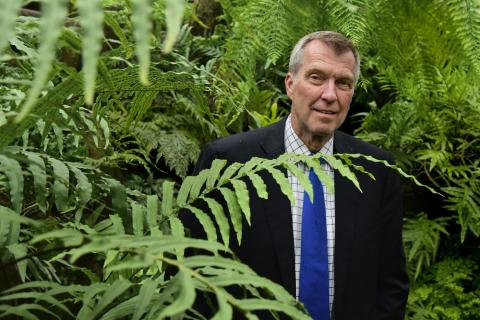 By Lini S. Kadaba
In the summer of 1976, when Paul W. Meyer arrived at Morris Arboretum fresh off a master's in plant sciences, his goal was clear: Gain some experience at the "backwater" garden and move on to bigger opportunities.
More than 42 years later, 28 as the F. Otto Haas executive director, Meyer is at last ready. This month, the 66-year-old plans to retire from the 170-acre, public arboretum of the University of Pennsylvania located off Northwestern Avenue in Chestnut Hill. The horticulturalist will leave behind the place he has called home (he has lived on the property from Day One, as well) with a healthy endowment and world-class gardens — due in large part to his stewardship. (Meanwhile, Morris is busy interviewing candidates in the hopes of having a new director by the summer.)
"That something bigger came here," he says from his spacious office that overlooks a stand of red-berried hollies and an impressive London plane tree, "so I didn't have to move on."
Even now, Meyer will not go far. Despite the drizzly day, the rooftops of Chestnut Hill peek from the distant tree line, where he and his wife have bought a home. When not traveling, Meyer aims to continue writing plant profiles and to organize his 105,000 digital images — he's an avid photographer of gardens and trees — contributing the best to the arboretum's archives.