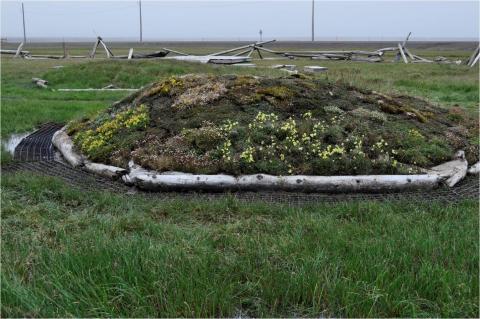 ANCHORAGE (KTUU) - At 71 degrees North - the approximate latitude of Utqiagvik, Alaska - it is too cold and windy for any species of berries to fruit. The growing season gives just a few short weeks for the knee high willows to add a few millimeters of new wood to their mangled branches, and the wildlfowers bloom briefly before fading back into the ruddy tones of the tundra. 
So why did the community of Utqiagvik decide to build a botanical garden in a barren patch of permafrost? It turns out that a lot of the plants that are ntative to the tundera have a rich tradition of culinary use, but one that's been largely forgotten. 
"Elders told us that they really like going out on the land, and they liked harvesting plants," said Diana Solenberger of Ilisagvik College, a partener in the project since its inception four years ago, "but they didn't have a Honda, or they didn't have transportation to get out there anymore. And so the idea was to bring the plants to the elders, bring the plants to the community."
But picturing the typical botanical garden of the Lower-48 doesn't quite explain the project. In fact, Lorene Lynn, a restoration ecologist who led the construction of the gardens says the word "garden" itself is problematic, since it doesn't relfect any Inupiaq understanding of the project she was trying to create. It's officially called the Heritage Tundra Garden, but in fact, no language can encapsulate what it is meant to represent. 
"This is to provide an avenue to learn and communicate about the plants, build their relationship with the plants, and iintroduce their children to it," she said.
Continue reading here. 
~ Lex Treinen, KTUU