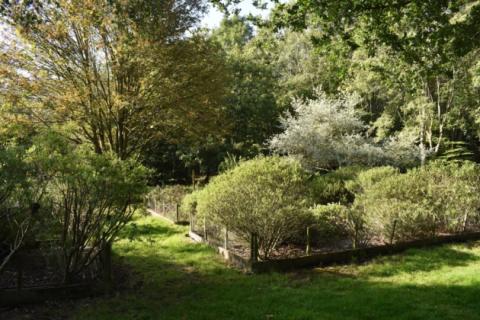 Towering over the Cheshire countryside is one of the county's best-known landmarks, the famous radio telescope of Jodrell Bank, brainchild of physicist and radio astronomer Sir Bernard Lovell OBE FRS. What isn't quite as well known, though, is that Sir Bernard who lived in Swettenham, just a few miles away from Jodrell, left a second legacy.
In 1948 he and his wife bought The Quinta, a large house on the outskirts of the village (quinta means country house in Portuguese). Shortly afterwards, Sir Bernard, a keen horticulturalist, began to develop an arboretum, buying up fields until it reached its present size of 28 acres.
His aim was to collect one of every type of plant listed in W. J. Bean's Trees and Shrubs Hardy in the British Isles, published in 1914 and long considered the pre-eminent reference book to native woody plants. Today, the beautiful arboretum, now renamed Lovell Quinta in Sir Bernard's memory, has almost a complete set of specimens with the exception of a handful, which could not be persuaded to grow in the local soil. In total, there are around 2,500 different species of plants.
Sir Bernard loved horticulture and was vice president of the Tatton Garden Society, which originally had its home in Tatton Park in Knutsford. When a new home was needed, Sir Bernard invited the society to move to the arboretum. In 2006, when in his 90s, he gifted the site to Cheshire Wildlife Trust to carry on his work. Realising that managing a formal arboretum was not in its area of expertise, the Trust regifted the arboretum itself to the Tatton Garden Society. The Cheshire Wildlife Trust remains responsible for the wilder woodland areas, and the two charities work closely together.
Now the arboretum is a beautiful, tranquil place of wide, grassy paths, sweeping avenues and horticultural surprises, with stunning vistas over the Dane Valley and the odd glimpse of the Lovell telescope at Jodrell.
Tatton Garden Society is currently under the direction of David Skidmore, emeritus professor of botany, who has been chairman for around 18 months. With him on the committee is Viscount Ashbrook, who has been the president of the Tatton Garden Society for around nine years and has a keen personal interest in gardening.