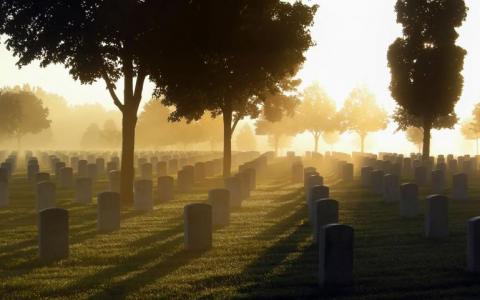 Once upon a time, in early-19th-century America, people didn't frequent parks; they recreated at cemeteries. Thanks to the so-called rural cemetery movement, expansive "groves of the dead" were filled with curated collections of flowering bushes and magnificent trees. Sprawling across hundreds of acres just outside cities, they were designed as naturalistic oases to simultaneously help strolling urbanites commune with dearly departeds and connect with their lost country roots. 
Even today, visitors to the first of America's rural cemeteries—Mount Auburn near Boston (built in 1831), Laurel Hill in Philadelphia (1836), and Green-Wood in Brooklyn (1838)—can find respite, shade, robins perched rotundly on headstones, and Edward Gorey-esque panoramas that don't quite jibe with contemporary notions of either greenspaces or graveyards. These cemeteries also offer another bona fide—species diversity. As our planet loses ever more forest and grassland to development and industrial agriculture, cemeteries, along with oddball land parcels like highway median strips and churchyards, become increasingly vital. Even "regular" cemeteries offer flora to shelter myriad creatures, platforms from which to scout for food, and nooks for cavity nesters.
A 2001 study published in Conservation Biology confirmed that old cemeteries preserve general biotic diversity, while a German study from 2020 showed they could sustain a range of wild pollinators. But ecologists at rural cemeteries have long recognized the connection. As a result, says Mount Auburn's director of urban ecology and sustainability Paul Kwiatkowski, they've been actively "striving to protect and improve habitat for wildlife" in these spaces for years. That's good news for insects and the birds that eat them. And also for bats, turtles, salamanders, frogs, and fish, many of which are threatened or endangered. 
"Slowly but surely we're getting people to realize that cemeteries, while certainly places for contemplation and commemorating a loved one, in some cases are the largest green spaces in urban areas," says Kwiatkowski. "It's provided us the opportunity to reinvent the idea of what a cemetery can be and to look at ourselves as a living lab." 
Date:
Tuesday, November 10, 2020