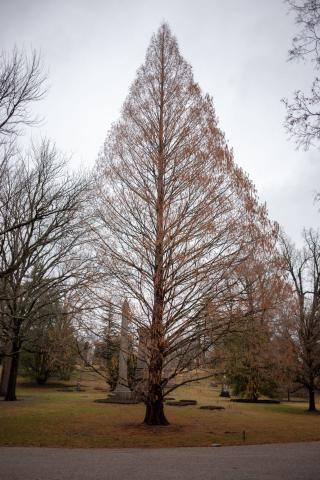 ...In 1987, the cemetery—the third largest in the U.S.—officially changed its name to Spring Grove Cemetery and Arboretum. Today, its 733 acres are populated with an extensive collection of native and exotic flora, including at least 500 species of woody plants and 1,000 trees, shrubs, annuals, and perennials labeled for research purposes. "The current horticulture staff is constantly finding new and unique species to add to the collection," says Wendy Huang, Spring Grove's special events coordinator. "When new sections are developed, trees and shrubs are planted first, then the burial spaces are designed around the plants."
According to Huang, Spring Grove has 27 state champion trees, including the largest in Ohio, and one national champion tree (the largest in the nation). Tree nominees are judged on trunk circumference, vertical height, and crown spread. Today the cemetery's collection, which includes buckeye, pine, elm, oak, bald cypress, and several non-native trees, "serves as a living laboratory where universities, nurseries, and growers bring new plants for horticultural research," Huang says.
Spring Grove also "employs a collections curator, has substantial educational programming, collaborates with other arboreta, publicizes its collections, and actively participates in tree science and conservation," Huang says.