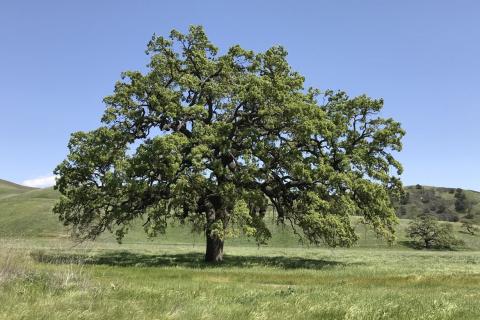 With increasing regularity, Californians are witnessing firsthand the destructive power of wildfires. But not everyone sees what happens after the flames die down, when debris is cleared, homes and lives rebuilt — and trees replanted to help nature recover.
New research led by UCLA evolutionary biologist Victoria Sork examines whether the trees being replanted in the wake of California's fires will be able to survive a climate that is continuing to warm.
The study, which is published in the Proceedings of the Natural Academy of Sciences, focuses on California's iconic valley oak. The research is among the first to demonstrate the potential of using genomics to inform conservation strategies — essentially giving species an evolutionary boost. The study showed that planting trees that are genetically better suited to higher temperatures makes them more likely to survive and grow to maturity.
"When we think about managing ecosystems under rapidly changing climates, we have to realize trees need to be able to survive past 50 years," Sork said.
The paper also discovered something surprising: The valley oak, an essential component of many ecosystems in California, is already poorly adapted to its environment — even considering climate conditions in 2019.
"They actually seem to grow better in cooler climates than they're in right now," said Luke Browne, a postdoctoral scholar at the UCLA La Kretz Center for California Conservation Science and the study's lead author. "They might grow better if climates were more like they were 21,000 years ago, during the last ice age."
Date:
Tuesday, November 26, 2019