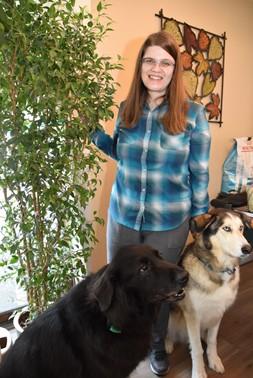 In late 2022, ArbNet was excited to launch a new position, ArbNet Leader, to help grow the interactive community of arboreta into its second decade. Dr. Andrea Brennan joined the team as the first in that position. Now that she has several months at ArbNet "under her belt", we asked her some questions about her interest and background in trees and her perspectives on ArbNet:
How did you become interested in trees?
It's a story of something very positive "seeding" from a dark time for my family… My grandpa passed away when I was young and my family received many houseplant condolence gifts from friends and family. Up to that point we had never had any houseplants, so when my parents offered for me to pick one as my own, I was delighted. Being enthralled with the idea of being able to grow a "tree" in my own room (a profound concept to my kid brain), I chose a small (~8" tall) Benjamin fig (Ficus benjamina). Soon all of those houseplants and my family's yard plants were nearly100% cared for by me. I became a walking, talking horticultural encyclopedia and was completely sold on a plant career - especially if it could involve trees! I still have that first fig tree and it has traveled with me everywhere I've ever lived. It is probably about 22 years old now and massive to the point that I have to prune it annually so that it still fits in my window and home! I love that tree. (Brennan is pictured above with the tree, along with her two dogs, Orion (L) and Poseidon (R).)
How have you been involved with arboreta and public gardens?
The plant-people intersection became increasingly important to me as I came to realize that not all are fortunate enough to have the same access to the benefits of plants and trees as I have. (To learn about the extensive benefits of trees, see this article). When I discovered the field of public horticulture, I knew that was exactly where I needed to contribute to changing that situation. I earned both my BS (Purdue University) and MS (Longwood Graduate Program, Longwood Gardens/ University of Delaware) in the field. While my PhD (Purdue University) was in forest biology, I didn't lose sight of the people-tree connection and conducted a social science/ tree conservation project as part of my research. Ultimately, my goal has always been a career in arboreta and public gardens - dedicated organizations to foster plant-people interactions and plant conservation. I have had wonderful experiences working at several different gardens and arboreta, including The Purdue Arboretum, Applewood, Longwood Gardens, and The Morton Arboretum, and have collaborated with numerous others around the world through joint projects and programs - especially now that I work at ArbNet!
What is an example of a collaborative opportunity through ArbNet?
One of my big favorites is the Botanic Gardens Conservation International/ArbNet Partnership Programme, which supports international collaborations between tree-focused botanic gardens and arboreta for the purpose of exchanging skills, resources and expertise to advance tree conservation efforts. The Partnership Programme, run through the BGCI Global Botanic Garden Fund, provides funding (usually up to $2,500) for collaborative tree conservation projects, with priority given to projects that target biodiversity hotspots and/or capacity building in developing countries. BGCI/ArbNet Partnership Programme grants are offered annually and the 2023 round of grants opens in May (click here to learn more and apply).
Collaboration of NUEBG Philippines and KBCC Taiwan in conserving rare, endemic, exceptional trees in NW, Philippines threatened by frequent super typhoons.
Conservation of wild pears (Pyrus L.) of Armenia in the Yerevan Botanical Garden, which partnered with the Arnold Arboretum to protect the species.
What are some of your other favorite aspects of ArbNet?
The ArbNet Arboretum Accreditation Program is a fantastic opportunity to meet and grow towards established professional arboretum standards and criteria. Accreditation is based on self-assessment and documentation of an arboretum's level of achievement of accreditation standards, including planning, governance, number of species, staff or volunteer support, education and public programming, and tree science research and conservation (details here). This official designation can be instrumental in helping earn distinction in your community, university, college, or government agency. Becoming ArbNet accredited also allows arboreta to identify other organizations at similar or higher levels of accreditation to provide comparative benchmarks and models for further achievement, as well as exert leadership and influence by serving as models to encourage professional development in other organizations.
What I particularly like about the ArbNet Arboretum Accreditation Program is that it is completely free. The program is also unique in its inclusiveness of what it means to be an arboretum, including and expanding upon the 'traditional' arboretum - ArbNet recognizes arboreta at various levels of development, capacity, and professionalism, such as urban and municipal arboreta, schools, cemeteries, retirement communities, and other types of organizations that plant and care for trees. The ArbNet Arboretum Accreditation Program also has a pathway for reciprocal accreditation with the Botanic Gardens Conservation International Botanic Garden Accreditation Program.
What has ArbNet been working on lately?
ArbNet is proud to be collaborating with the Chicago Region Trees Initiative (CRTI) on a project funded by an Institute of Museum and Library Services grant (# ARPML-250622-OMLS-22). The project, entitled "ArbNet: Supporting community-led arboreta in underserved urban communities in the Chicago Region", works to identify areas of cohesion between the goals of local communities in underserved areas in the Chicago region and the goals and resources available from ArbNet and CRTI. The in-progress project is helping us identify key barriers and opportunities that ArbNet and CRTI could address to improve access to trees and high quality living collections and create stronger, more dynamic programs for the communities they collaborate with. The project also includes a spring tree planting component for the arboreta and communities involved with the project.
Tree plantings at the John Mazur Arboretum (Franklin Park, IL, USA) as part of the ArbNet and Chicago Region Trees Initiative project funded by the Institute of Museum and Library Services.
What else is on the horizon for ArbNet?
We are currently working on expanding our selection of arboretum resources including the development of new resources for tree care training, climate change adaptation planning for tree collections, and educational engagement (including a new school arboretum toolkit that has a planned launch this summer). Over the next couple of years, we will be conducting an extensive overhaul of our digital systems, including the website, accreditation application, and The Morton Register of Arboreta, which should result in a much more user-friendly experience for our ArbNet network. Looking long-term, we will be focusing on increasing partnerships with other tree-focused groups, establishing arboreta in biodiversity hotspots to facilitate conservation, the development of a national climate change tree adaptation plan, and importantly, drafting a new 10-year plan to set the path for the bright future ahead for ArbNet.